---
BADUA Grags-pa (RE-HLA)
2011-01-05
Badua Grags-pa
* 1.3.2005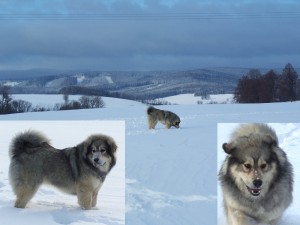 Best Regards to all, my name is Bady, as my Lord name me like this, he is living in a big house in my garden and I see out him every morning and welcome him every evening when he comes back from the work. I am the most important member in his family. I have the best overview about all things they brushed around, who is coming home, what will be cooked and where is going out all of us
Whole day and night I observe the wide surroundings, at once I know where is anybody walking and near by is a nice wood – so I am very busy. Every evening I yap at roes, I like my evenings talk with the foxs and wild pigs and at the early morning they come for visit the pheasants. Sometimes I greet the walking horses.
I love gardening and there are some my trees in the garden they got my special attention – nice teeth cutting (my speciality). I hide some treasures – which I looking for once in a while. I help everywhere and everytime so my energy is worth. With my Lord I set up and take care for a vegetable garden – every year is better. I try to show him the best places for the right vegetable, he runs behind me with the shovel and gruber and starts to plant. Sometimes he just needs to slightly touch up it.
I choose my lord and he is so nice to travel with me to all exhibitions so I can show him to all my friends, how lovely he is. I got a lot of exhibitions prices and because I can not find a place for all the cupfuls and esteems I gave up the active exhibitioning and just for fun I go sometimes to take a look on some special exhibition.
Now a days I woul like to gen my first puppies and if you are interest let me know I will tell you more. Looking foward to hear from you.
Exhibition success:
Grand Champion Czech Republic
2xClub Champoin, Club Junior Šampión,
Czech Juniorchampion,
Champion Czech Republic , Slovak and Germany, Champión VDH,
4.place (fourth) World Dog Show 2006,
2xClub winner , club winner young 4xBOB, 10x CACIB, 12xCAC, 6xCAJC, 4x National winner, the Winner Slovak, the Winner in Leipzig 2006, theWinner in Leipzig 2007 ,The Best Tibetian Mastiff season 2006 in Czech Republic,8.place (eighth) in contest DOG YEAR CR in season 2006 in the group II.FCI