---
ARKA RE-HLA
ARKA RE-HLA *13.2.2010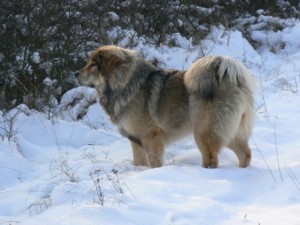 HI - here I am! My name is Arka. I was born in February to mum Bauda and my keeper felt in love with me from the first days. So he decided to keep me. I like to give him back at all my sweet troubles together with mum that he won´t regret this decision.
Time as a puppy was great. Mum Badua feeded us and took the control.
Our keepers coddled us in all sences. They weigth and measured us if we grow up correctly. The eating time was the best joy for me. I always eat up everything what I got and because it was so delicious I always took something from my brothers and sisters as well. This is something I keep till today.
When the time comes and my brothers and sisters need to leave for the new home I was sad. I like to come for a visit to them. From my mum I am learning all important things like get rest well, barking for Horses and Wildlife – here are a lot of red deers, foxes, pheasants and wild boarses, I have to guard carefully that all knows we are here two dogs here. I already guarding alone. Before my mum used to help me but now she comes only when noisy people comes near or they drive in the forest with the cars.
As my mum took care about the trees, I took care about the flowers. It is a job. I carefully watch my keepers and try to make the same afterwards – mostly I am replanting. Than I got compliments and schratches for well done job. It keeps me continuing in these rogueries.
I love to go for the trips. As I am not happy to be alone at home I am going with my keepers everywhere with the mum in the car. My mum went to sleep but I am taking the control if the keeper is driving the right way. Yes controls have to be made, you know people are doing mistakes. What if the keeper drives the wrong way, but fortunately he drives well so I do not need to lecture him.
Czech Junior Champion
Junior Club Champion
Croatian Champion
Club Champion
German Champion
Slovak Champion
Polish Champion
Czech Champion
Champion International de Beauté (ICH)

1x BIS.J.
5x BOB
2x BOB.J.
5x CACIB
13x CAC
7x CAJC
19x Excellent 1
2x Club Winner
Winner Leipzig 2010